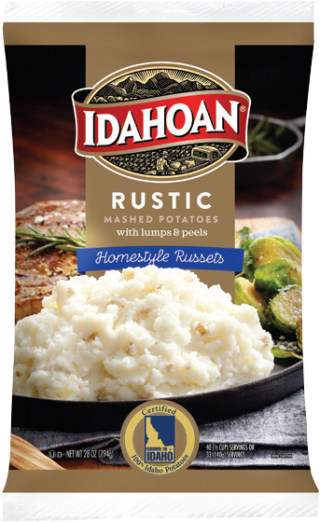 It's almost as if you hand mashed them yourself! When it comes to authentic, field-fresh flavor, nothing compares to Idahoan® Rustic Homestyle Russets Mashed Potatoes! Made from Certified 100% Idaho Potatoes, with lumps and peels, lightly buttered and seasoned.
Certifications
Dairy Kosher
Product Details

Prep Instructions
Measure 1 gallon (3.78 L) of boiling water into a 6? x ½ size steam table pan.
Add entire pouch of potatoes at once, using a spoon or wire whip to distribute evenly and wet all potatoes.
Let stand 1 minutes then fluff with spoon or wire whip.
Place on steam table for 10 minutes, stir and serve.
For creamier mashed potatoes add more hot water.

Nutrition Facts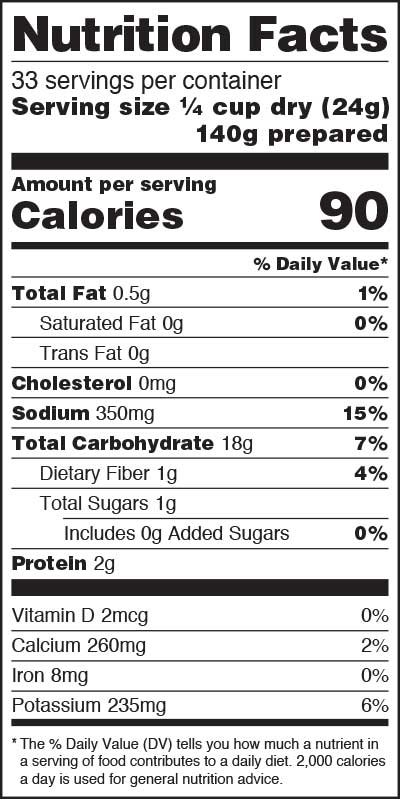 Ingredients
Idaho® potatoes with peel, nonfat dry milk, salt, sunflower oil, monoglycerides, calcium stearoyl lactylate, natural and artificial flavors, spice and artificial color. Freshness preserved by sodium acid pyrophosphate, sodium bisulfite, citric acid and mixed tocopherols.
Contains: Milk
Gluten Free
Prep Chart
# 1/2 Cup Servings
Boiling Water
Potatoes
Steam Table Size Pan
41
1 gallon (3.79 L)
1 Pouch
6" Half Pan
82
2 gallon (7.57 L)
2 Pouches
6" Full Pan